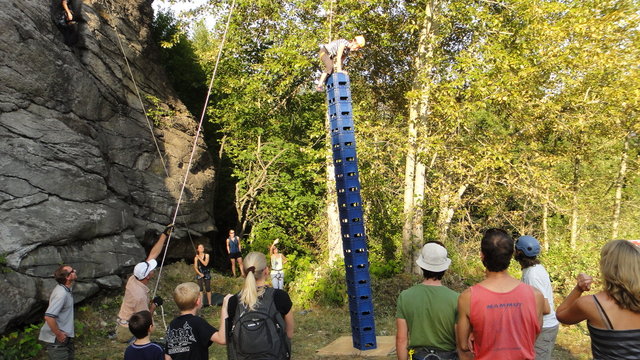 Kootenay Climbing Festival Returns September 20th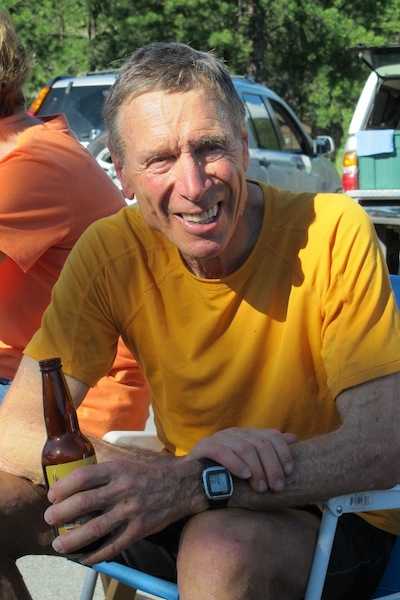 The Kootenay Rock Climbing Festival is pleased to announce that Australian mountaineering and climbing legend John Fantini will be guest speaking at the event. Fantini, who now resides in Penticton, BC, has innumerable first alpine and rock climbing ascents to his credit around the world and, at 71 years old, is still going strong, putting up hard new sport routes in Skaha Provincial Park.
Organized by TAWKROC (the Association of West Kootenay Rock Climbers), the Kootenay Climbing Festival is now entering its third year and will occur on Saturday, September 20, from 2:00pm to 9:00pm. The event will be held by the natural rock climbing wall behind the Lions Head Pub in Robson, BC, and will feature a zipline for the kids, slackline, door prize draw, silent auction, and the always popular Tower of Power competition, which sees competitors try to stack the most number of milk crates… while standing on them!
Different for this year is the fact the Lion's Head now has a family dining license which means kids can come and go from the restaurant anytime before 7:00pm. (Children must be accompanied by an adult.) Everyone young and old are welcome to the event and there is no coverage charge although, as this is a fundraiser to help new outdoor route development, donations are greatly appreciated.
TAWKROC was established in 2009 to help promote outdoor rock climbing in the Kootenay region by organizing work parties to improve rock climbing areas, both for locals and tourists, and by offering a bolt fund for climbing developers. Every year the organization reimburses climbers who spend time and money putting up new rock climbs in the area. In 2012, TAWKROC became a chapter of the Climbing Access Society of British Columbia and its directors are now committed to ensuring various climbing areas in the Kootenays remain accessible for all.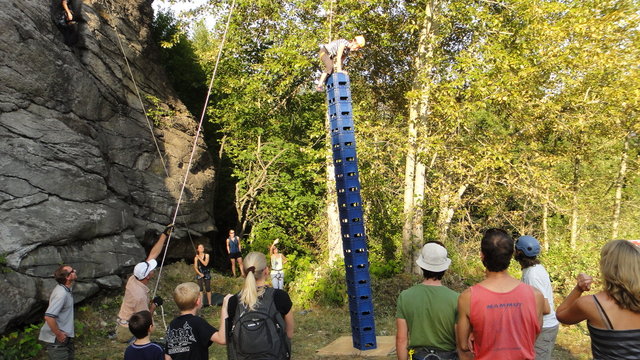 Last year TAWKROC reimbursed outdoor route developers for $668.48 worth of climbing hardware for new areas developed in Castlegar, Nelson and Creston. Also, later this autumn TAWKROC is organizing a work party to improve access to the Koch Creek climbing area in the Slocan Valley. In addition, the organization's directors have been busy replacing old anchors and bolts at the Kinnaird Wall in Castlegar, an area that's been a climbing destination for locals and visitors alike since the early 1960s.
For more information about TAWKROC or the Kootenay Climbing Festival, please contact director Vince Hempsall at vhempsall at access-society.ca.
https://wonowmedia.com/wp-content/uploads/2017/07/towerpower-win.jpg
360
640
admin
https://wonowmedia.com/wp-content/uploads/2017/06/wonow_media_logo.png
admin
2014-09-20 09:57:33
2018-04-11 13:30:35
Kootenay Climbing Festival Returns September 20th