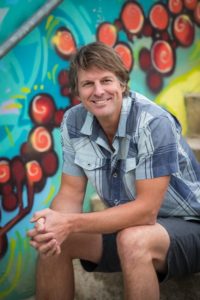 Hi. My name is Vince Hempsall. I'm a writer, editor, book author, publisher, content creator and social media marketer. I'm also an alleged "word nerd."
I studied journalism in university because I loved the idea of doing something different every day and capturing it all in words. From helping create Twitter feeds for hiking resorts to filing articles about harvesting icebergs in Newfoundland, it's all about keeping things interesting and sharing the story with others. I love writing about the quirky side of life; the things that don't usually pop up in daily conversation: the amazing rock climbing potential in Oman, for example, or how best to share your wedding vows while on snowboards. You could say that I specialize in writing about the "un-ordinary" in the things we do.
And I'll use whatever medium is available: books, articles, posts, tweets, letters to my grandfather – whatever the source material, I respect the words within. They are powerful little beings with the ability to seize moments out of time. They can inspire individuals and rouse nations. And really, there's nothing nerdy about that.
The Globe and Mail newspaper 
The Royal Bank
Alpine Club of Canada
Powder magazine
Banff Mountain Film Festival
Explore magazine
Gripped magazine
Bank of Montreal
Canadian Business magazine
Chatelaine magazine
GuideAdvisor
Kays Contracting
Avalanche Canada
Rock and Ice magazine
Mountain Equipment Coop
Bike magazine
Stash Club
Dirtrag magazine
Canadian Broadcasting Corporation
Kootenay Mountain Culture Magazine
Panorama Mountain Resort
Renewal Workshop
Downhome magazine
The Toronto Sun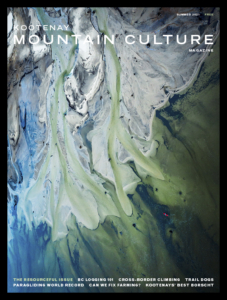 In addition to my commercial contracts and rock climbing gig, I'm also the editor of Kootenay Mountain Culture Magazine, an award-winning biannual publication dedicated to the celebration of culture as it exists in the most influential mountain regions in North America. It's a role that truly feeds my soul because we're a small, independent media team that chronicles everything from adventure epics to investigative journalism articles in a beautiful, perfect-bound magazine.
It's a rare and wonderful thing to be working in the print media realm these days, but in between publications, the majority of my time is dedicated to the digital realm: I have a multitude of clients who require social media monitoring and website content, and I'm also the online editor of KMC's digital storytelling space, Mountain Culture Group, which is focused on the interplay between human beings and one of the most inspiring, challenging and creative landscapes on Earth.