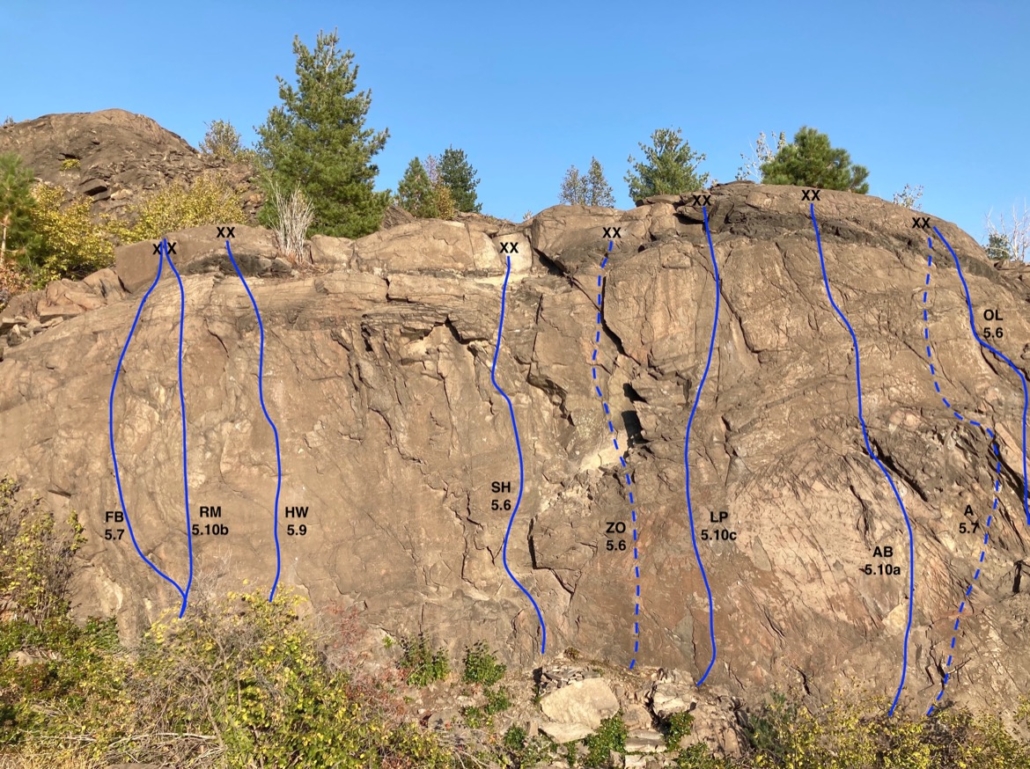 Trail was one of the few West Kootenay communities that didn't have a rock climbing crag. Hell, even the tiny hamlet of Ymir has one, and it's good. But thanks to the efforts of teacher Dave Sterpin, Trail can now boast its own climbing cliff, albeit a small one. Located on the bluffs overlooking the Teck Smelter, the 15-metre-high area has nine routes ranging in grades from 5.6 to 5.10c. Most of the climbs are sport although two are currently top-ropes (noted by the dotted lines on the topo) because Dave has yet to finish bolting them. (He plans to finalize them this fall.)
Dave says the crag "was born out of necessity" during the Covid pandemic when he was trying to find activities for his students. "I said to my principal I need five days and a few hundred bucks. And he agreed." He recommends combining an afternoon outing with a mountain bike ride on the Miral Heights Trail and and enjoying the views down the Columbia River, away from the Smelter. He also says the crag is a good shoulder season spot as it gets hot in the summer and there's full cell service there.
Gear: All routes are sport or top-rope, 12 to 15-metres long (so a half-rope will suffice) and require a maximum of six quickdraws.
Access: Hike or bike the Miral Heights trail to the lookout bench. From there turn left and you'll see the crag about 20 metres away.
Routes: All FAs by Dave Sterpin. Left to right they are:
Fallout Boy 5.7
Radioactive Man 5.10b
Heavy Water 5.9
Slag Heap 5.6
Zinc Oxide 5.6 TR
Lead Poisoning 5.10c
Acid Bath 5.10a
Arsenic 5.7 TR
Old Lace 5.6
https://wonowmedia.com/wp-content/uploads/2022/08/smelterview-latest-2.jpg
874
1170
Vince Hempsall
https://wonowmedia.com/wp-content/uploads/2017/06/wonow_media_logo.png
Vince Hempsall
2022-08-01 20:47:06
2022-09-23 09:47:01
Introducing Smelterview Crag in Trail, BC