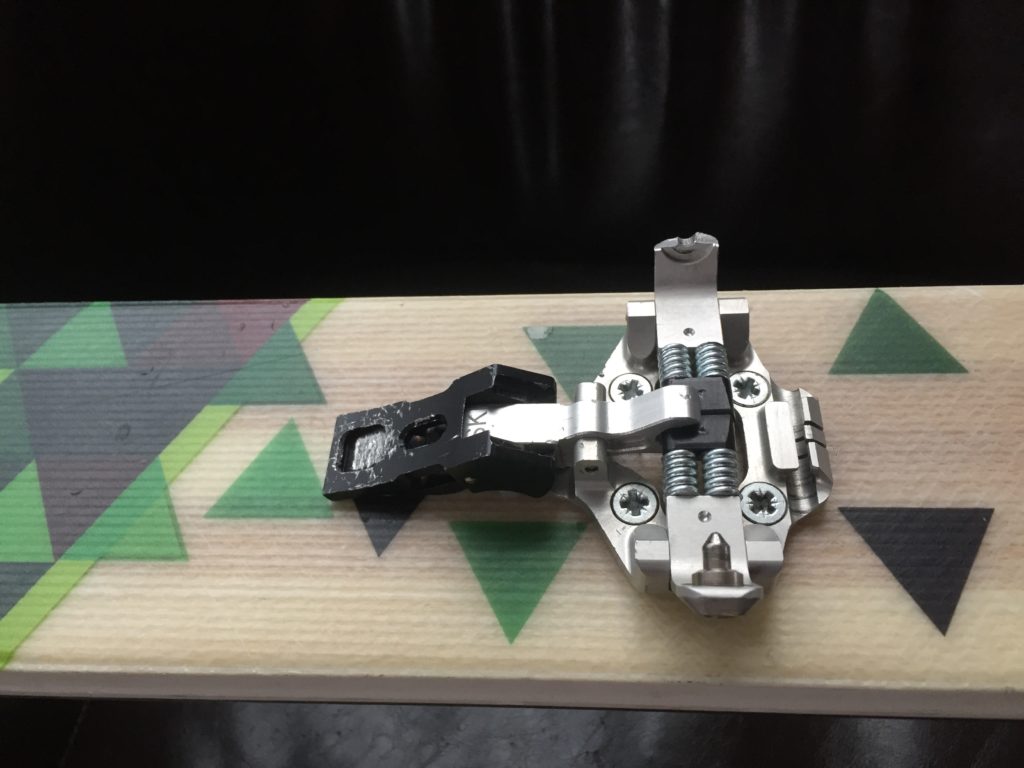 Plum is a ski product manufacturer out of Europe that, about a decade ago, was one of the few companies other than Dynafit that made tech bindings. Since then a number of other companies have gotten into the tech binding manufacturing market, such as G3 and Salomon, and I would highly recommend purchasing any of those other offerings and staying away from Plum.
The reason for my opinion stems from the fact I've been skiing on Plum bindings (specifically the Guide M's) for the past four years. On the upside, the bindings are incredibly light — the lightest on the market in fact at 670g a pair. But as with all lightweight gear, there is a cost. And it's a cost that is too high for anyone to pay, in my opinion. I'm referring to the fact the bindings are prone to breaking and when you're in the middle of the backcountry, that could spell disaster.
Last year I snapped one of the pins on one of the toe pieces of my Plum binding, rendering it useless. I was just coming off a slackcountry run near Whitewater Ski Resort, and had entered inbounds on a groomer when it happened. I chalked it up to the fact maybe I was turning with too much force on the groomer. I asked about a warranty but the company just said I'd have to buy a replacement. I was offered a discount of 153 Euros (close to $300 Cdn) for two toe pieces, which I thought expensive because I only needed the one and so I purchased a toe piece on the SkiMo website for just over $100.
It needs to be said Plum bindings now come with a three-year warranty – but in my opinion that doesn't mean much if, in the fourth year, your binding breaks and you're left stranded somewhere.
Sure enough, this year while skiing near Crusader Cabin in the Kootenays, the exact same thing happened on the other toe piece. The pin broke while I was skiing light powder and it was definitely not a forceful turn. This last experience had me trudging up a logging road in ski boots to get back to the cabin. Thankfully a snowmobiler picked me up after about a kilometre and saved me the majority of the distance. However, what if this had happened on a steep run on nearby Arlington Peak? I could've been seriously hurt or at the very least would've had to posthole many kilometres back to the cabin.
I'm now questioning the quality of the alloy used in the production. According to the company it has been greatly improved in recent years but too little too late in my opinion. Some of my friends have Dynafit bindings that are a decade old and they haven't snapped in the middle of any of their backcountry runs.
I cannot stress enough that, for safety issues, I cannot recommended Plum bindings and would seriously stress that you avoid them and chose a more reliable tech binding manufacturer such as Dynafit.
https://wonowmedia.com/wp-content/uploads/2018/04/plum-binding-broken.jpg
2448
3264
Vince Hempsall
https://wonowmedia.com/wp-content/uploads/2017/06/wonow_media_logo.png
Vince Hempsall
2018-04-13 06:31:07
2018-04-13 06:40:31
Plum Binding Review – Why I'll Never Buy Them Again